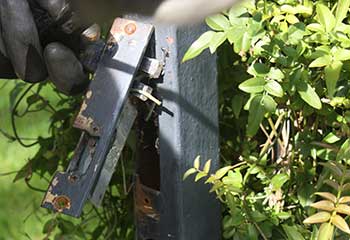 Swing Gate Repair
Customer Issue: Mr. Owen's gate looked tilted and made noises when operated.
Our Solution: As soon as we arrived and saw Mr. Owen's swing gate, we suspected hinges were the culprit and confirmed our suspicion upon inspection. They were well past the point of repair, so we replaced them with a new set. A little bit of welding and tightening was exactly what this swing gate needed to go back to its usual self.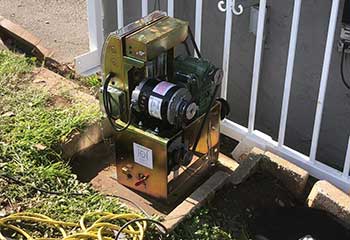 Gate Opener Installation
Customer Issue: Mr. Merchant wanted a reliable opener for his swing gate.
Our Solution: First, we had a long talk with Mr. Merchant to understand his wishes and expectations concerning the gate opener and offer him only those products that met all his requirements. We returned with the unit of his choice and installed it in no time at all. Then we went on to power the gate opener and connect it to the gate to make sure everything worked fine. Finally, we showed Mr. Merchant how to program the remote and keypad.