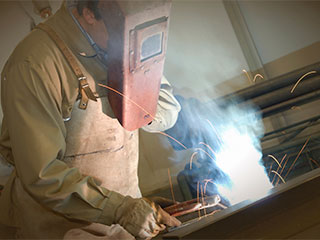 An Alignment Problem
The swing or slide mechanisms of your gate need to be perfect in order to achieve reliable closure that provides security for your home. When you're facing an alignment problem, the reason is likely the failure and destruction of welds in metal door panels or the failure of support structures due to destruction of the wood due to rot. Call us today if you're having problem with alignment and we'll perform effective driveway gate repair to get the best results for regaining proper alignment and function. We'll provide support struts, cables or right angle brackets for stability.
Failure of Hinges
Hinges provide the functional motion on a swing gate. To perform this important task, they need to be able to bear the weight of the door panels. This is not so easy since gates made from steel, wrought iron or wood tend to be very heavy. So, if welds are not strong enough or were not properly applied with the right techniques, they will fail. In the case of wooden ones, screws or nails that are not large enough may not be able to handle the full weight of the door. Hinges may also fail if the post they're mounted to develops rot. When this happens, call us for the appropriate gate repair services. We not only reinforce welds and reattach hinges, we also replace rotten posts.
Automation Failure Solution
Automatic systems are the epitome of all gate systems when it comes to convenience. Swing, slide and overhead types can be automated. This automation however sadly comes with the promise of eventual failure in the future due to wear and tear. The two parts of the automated system that will likely fail are the sensors and the operators. You can count on us for effective automatic gate repair. We have brand specific and compatible spare parts to ensure that you'll once again enjoy the convenience of an automated driveway.
Gate Repair Service for Openers
One step removed from automation is the use of a remotely controlled opener. For many, this is an ideal choice because this still provides owners the satisfaction of control and the convenience of semi-automation. The openers that allow this are so durable that owners will tend to forget that they're still subject to some wear and tear to their gears and drive assemblies. When your opener stops responding, call us and we'll take care of it with the right gate opener repair techniques. We'll replace worn down and broken gears, drive assemblies and even electronic boards.
We also offer the following:

Gate Motor Repair

Wrought Iron Gates

Doorking Gate Opener

Aiphone Gate Intercoms