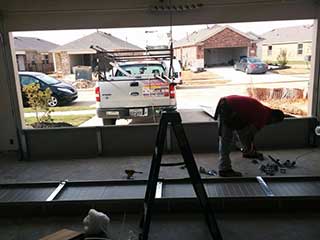 A malfunctioning garage door is not only a risk to your belongings inside, but for your safety and the safety anyone around it. One that won't open when you have a busy schedule to get to is equally frustrating. Rather than suffer along with a door that won't work as it should, make sure that it's running as smoothly and quickly as possible by taking care of repairs right away! If you see signs of shaking as it moves, noisiness, or reversing suddenly, it's time to give our team a call.
Professional & Excellent Opener Repair
Thanks to our years of experience in the area, or team will be able to get your door's opener working again in no time at all! We're deeply familiar with all of the popular brands such as Craftsman and LiftMaster, so there's no need to worry over whether or not we can take care of yours. Sometimes the motor or circuit board simply wears out from daily use, or the remote control may have been damaged. Whatever the issue, we'll either repair or replace the part as needed and ensure your door is like new again before you know it.
Track Repair, Alignment & Replacement
If the tracks that your door slides along have been harmed by an accident or otherwise, we can get them repaired or replaced! Replacing tracks is an involved process, so it's best left to our experts. We'll measure and mark where your original tracks are before removing the door and taking them out. The new tracks will be carefully aligned and put into place to ensure that your door will be moving swiftly again. We'll test to make absolutely sure of it!
Why Wait Any Longer?
Be it for your gate or garage door, we make it a point to ensure you are getting nothing short of the best products and solutions whenever you call. Call Gate Repair Fort Worth today and get your appointment scheduled at a time that's best for you! We'll take care of all of your repair needs in no time.