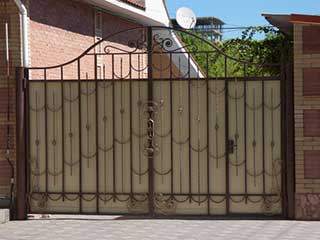 Here we go over some of the most important benefits and aspects to think if you're considering buying a residential gate opener. You don't have to replace your entire gate for a new design if you want it to be automatic, it's more about finding the correct opener that best suits the gate you currently have.
Benefits of Residential Gate Openers
Residential gate openers are great if you've already got a manual gate on your driveway but are tired of having to open and close it yourself every time you leave the house or come home. Most come with remotes that can be controlled from inside your car or house, meaning you never have to be caught outside while lugging the gate. Bearing the brunt of the elements during winter or late at night can be harsh. Having an automatic residential gate can help to completely negate that frustration. Another advantage is in security. Remote gates can be fitted with buzzers or be activated from clickers attached to walls or next to windows inside the house. Having a secure driveway gate with such capabilities can certainly add more comfort to your day to day routine.
Finding the Right Specifications
You need to match the right opener with the right design of gate. If your gate is especially large or heavy, it may need an opener system that has the capability to handle such loads efficiently. It would only be a huge frustration to go through the challenging feat of installation only to realize too late that the opener is not strong enough to move the gate at all or fast enough. A professional gate specialist will be able to advise on the best model to suit your current gate requirements. The very best gate openers are equipped with motors and components that can safely maneuver the heaviest and widest of designs.
Expert Residential Gate Services
Gate Repair Fort Worth specializes in professional gate services. We can help with gate repair, installation and thorough maintenance. If it isn't clear what the issue is, we can provide precision troubleshooting to identify the exact problem.
Call us now for a quote or to arrange a call our today.
Looking for more? We also offer:

Allstar Remote

Solid Sliding Gates

Phone Entry Systems

Electric Gate Service