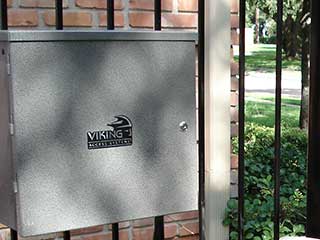 Some of the amazing possibilities with electric gates available today will tempt more and more homeowners to switch their current driveway gate for an automatic design. Alternatively, it is also possible to fit an electric gate opener system to your current manual gate to make it automatic. Here is a collection of some of the coolest features that openers and electric gates can provide.
Electric Gates with Sensors
All automatic electric gates should come with sensors that prevent the gat from colliding with objects in its path. Most sensors have a photo eye system that creates an invisible beam across the path of the door. When the path is broken the gate is stopped or reversed away from the object. This is great for safety but can falter. Dirty or misaligned lenses need to be corrected or they can cause the system to become unresponsive.
Powerful Motors
If you think you'll need to ditch your current gate for a lighter and more maneuverable design if you want to go automatic, you could be wrong. The electric gate motors designed today can be incredibly powerful. Strong enough to adequately haul almost any weight and fit any dimensions. The bigger the gate, the more complicated the job of installation will be, but that's exactly what professionals are for.
Digital Synchronization
With electrical equipment comes the possibility to go digital. Many of the latest electric opener designs offer users the capability of remote activation from a smart device. Meaning you can control your gate from your mobile phone or tablet through an app. This will appeal greatly to millennials as well as all home owners wanting to keep up with the times. If the majority of your attention and focus is usually on your mobile phone, you may as well keep as many things in that one place as possible.
Professional Electric Gate Services
Gate Repair Fort Worth offers expert repair and installation of all types of residential electric gate openers and systems. We can ensure your electronic gate is fitted perfectly to achieve best results. We have the expertise to work with all types of gate design and will be able to advise on the best opener model to suit your property and circumstances.
We also offer:

Rotten Gate Repair

Parking Garage Gates

Gate Remote Program

Doorking Gate Intercoms